Making your own holiday signs with upcycled cabinet doors is a fun holiday activity and it's easy on the budget!
I shopped at my local Habitat for Humanity ReStore in Pinellas County, Florida for something I could use to make a fun and budget friendly holiday project. As soon as I spotted a big pile of used cabinet doors, I knew I'd found the perfect item for the project. Check your local ReStore at 600 16th St in Vienna.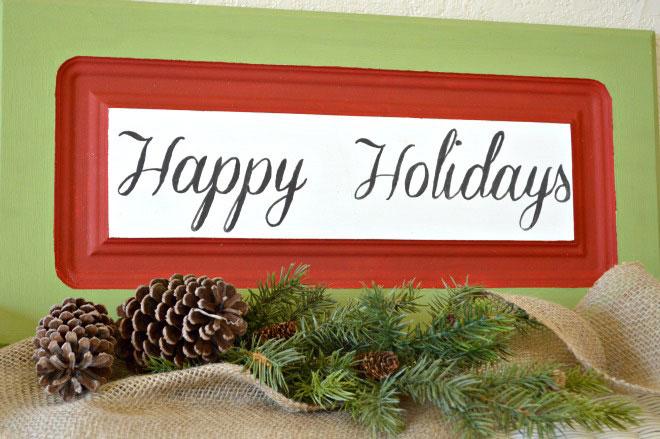 Supplies needed to make holiday signs from upcycled cabinet doors
Cabinet doors
Acrylic craft paint, white, green, red and black
Small round paintbrush
Large paintbrush
Painters tape for delicate surfaces
Printed holiday message
Graphite paper
Colored pen or pencil
Start by cleaning the cabinet door with soap, then dry thoroughly. Paint the entire cabinet door white.
Next, I typed the words "Happy Holidays" on my computer in a font I liked, then printed it out to fit the center of the door. Graphite paper — inexpensive and easy to find at craft stores or online — works great to trace and transfer the letters onto the sign and functions just like carbon paper.
When working with graphite paper I like to use a colored pen or pencil so I can see where I've already traced. Another good tip is to stay on the edge of the letter you are tracing, not inside and not outside of the lines. This will give you clear, crisp letters.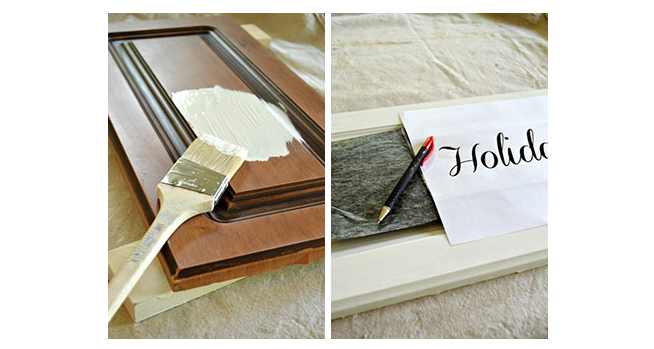 Going over the letters you've transferred with a small round paintbrush works best on a project like this. Dip only the tip in the paint to keep letters neat and consistent. If tracing and hand painting letters isn't your thing, stencils work well on this kind of project, too.
Once the lettering is done it's time to add some color. The natural edges of the cabinet door ridges make adding red and green holiday colors easy. I painted everything except the center of my cabinet door in a holiday green and let it dry. Then I taped off where I wanted to add a splash of red border with tape for delicate areas and painted it with two coats of red.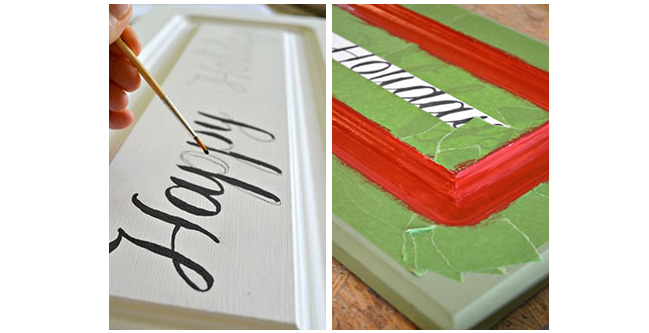 Carefully remove the tape as soon as the paint is dry to the touch.
That's all there is to upcycling a cabinet door into a pretty holiday sign!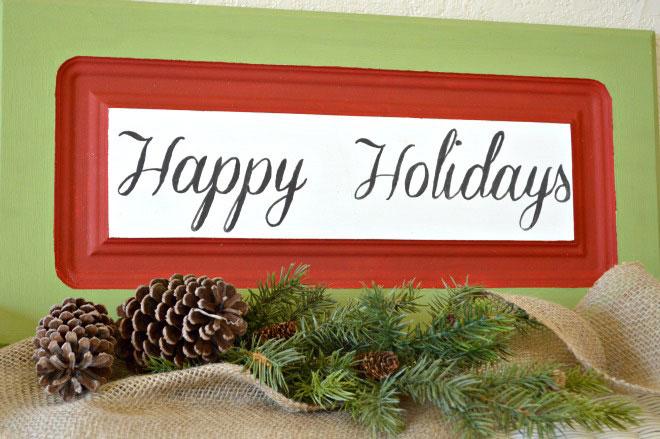 These holiday signs look fantastic leaning against a mantle in layers with other holiday items like pinecones and burlap ribbon. They also look great displayed on the wall with added hanging hardware.
Upcycling and repurposing items found at Habitat ReStores is such a fun way to be creative and do a good deed at the same time. Cabinet door sign projects are great year round and fun to customize.
What message or words would you use on an upcycled cabinet door sign? Let us know in the comments below!
Power suits were traded for colorful flip-flops when a relocation to Florida set the stage for an opportunity to dramatically downsize and simplify the family lifestyle. Choosing to follow in the family footsteps of creativity and art, Wendi uses her barrier island 1950s waterside bungalow, as the stage for her creative outlet and blog, H2OBungalow. Using everything from paint to power tools, Wendi tackles one DIY project at a time to create a fabulous coastal home with charm.